The training stage is important for companies because this is how much of the internal knowledge is imparted to their new employees. It should be something that will hold their interests. Otherwise, they would have to learn everything by practice, which means the organization would have to endure errors or low-quality work for the first few weeks or months of their employment.   This does not bode well because it could lead to production delays or customer dissatisfaction. These could ruin the reputation of the company which could be hard to recover from depending on the damage caused.
You can try a different approach to training which could be beneficial for your company in terms of cost, and this is by supplementing it with videos. These are great because you only have to make and record them once, and then deliver them to your employees whenever you want. Corporate video planning and production need not be very expensive either. With passion and creativity, you can create compelling content that would be useful for the employees.
Pre-Production
The pre-production stage of video production is where most of the thinking and planning are sorted out. You need to gather the best people who are creative types. So if you have colleagues who are vocal about their love for cinema, or those who have a knack for writing, invite them to be part of the project. They will surely have meaningful contributions to writing scripts or creating storyboards.
You also need to plan for how the whole project will run in general. The expenses need to be established first, and this will give you an idea if your production is feasible at all given your shoestring budget. Find out if you have all the hardware that you need in shooting videos like cameras, tripods, and lighting. If you are going to take the lead in directing the videos, you should have an idea of the cast and the settings too. But that should be easy enough to figure out since those are right within your reach.
The Cast
You are going to make videos about your workplace, and there are no better people to include in the cast than your fellow employees. This is not a huge undertaking, so you can just ask them or their superiors to provide a little time for them to act and contribute to the project. The great thing about this is you do not have to figure out any costume production. They only need to dress nicely for the cameras, which should be a given since they are working professionals.
There could also be scenes where you just need to have a wider view of the offices or the work areas showing how busy the people are. This is going to be a candid shot of real people working, so there is no need to think about who would look good or comfortable acting in front of the lens. You are basically capturing scenes as they happen.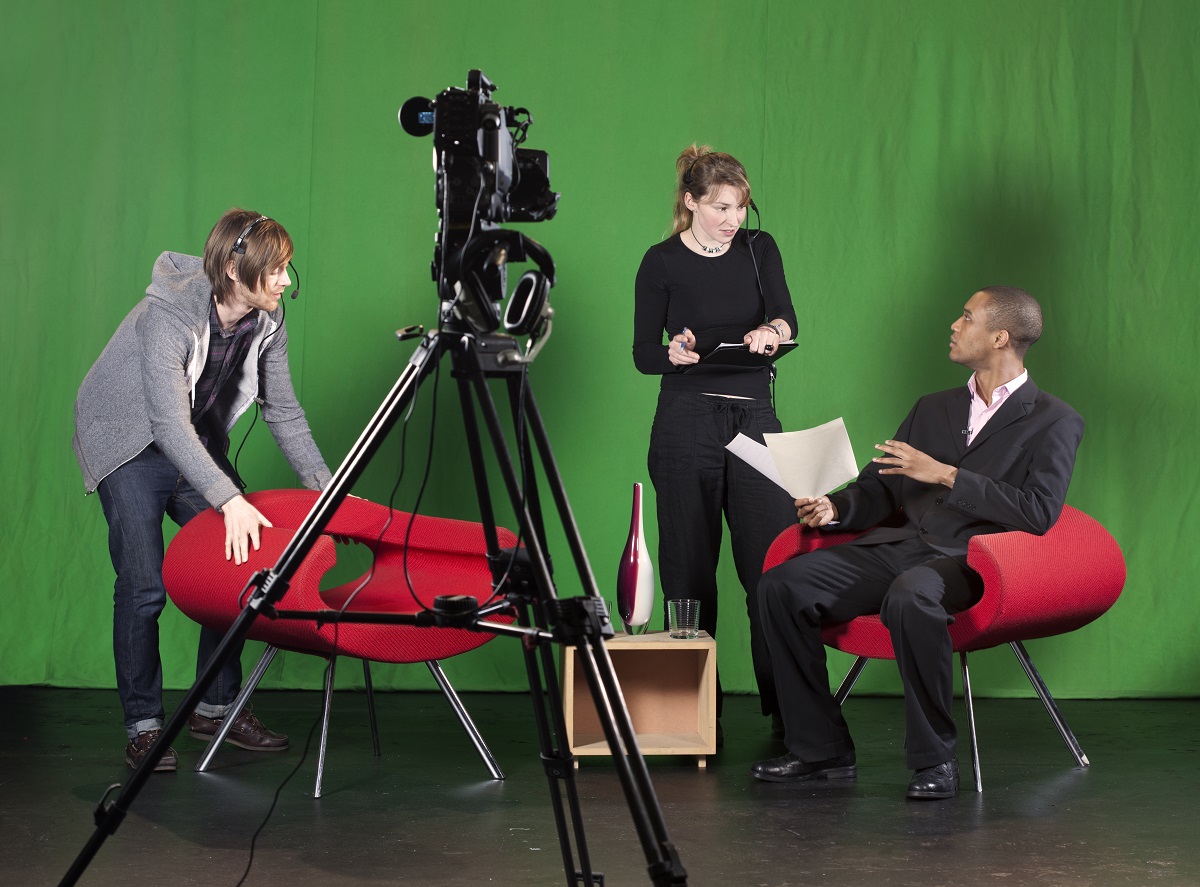 The Hardware
The things that you will need for your shoots do not need to be expensive or new. They can be stuff that you or your colleagues already own. You can ask around for those willing to lend some equipment to the project. The camera, of course, is the primary device that you should have. Everyone has a phone with a built-in lens these days, which means you already are set with this one. But you want to shoot multiple angles, so you can ask the others to shoot some scenes for you.
The lighting is also something that you could improvise on. Ceiling lamps provide decent brightness that captures well on camera. For closeups, you should be able to pull good scenes off using table lamps. Just have the bulb directed to the actor's face to have that illuminated and eliminate any unwanted shadows on camera.
You also need to capture the audio. If you are not satisfied with your phone's built-in mic, then you can get a standalone one and have that connected to its own recording device. For video stability, get a tripod or make your own with books or other items you can stack.
The Setting
Since you are primarily making content about your workplace, there should be no problem figuring out what the setting will be. Your site should have variety so that the video would not look like it is rehashing scenes. If you need a talking head portion, you can just shoot your speaker or host against a plain background. You can have them stand near the wall or just lay out a blanket or screen if you want to choose different colors.
Post Production
Once you have done principal photography, what comes next is the post-production stage. This is where you edit and splice all the things that you shot to make one cohesive video, and there are free software tools that you can download and use. A lot of time is needed for this process, as you have to go and watch through all the scenes that you shot on your cameras. You also have to add overlays and other effects for additional visual flair. After finishing all, you can have the video burned onto a DVD or uploaded to cloud storage. Both are convenient delivery methods, so you cannot go wrong with choosing either.
Making compelling training videos on the cheap can give your organization a big boost. People do not just want to read or be taught stuff, sometimes they want to digest visual content to understand lessons better. Making the shoot should be an exciting and fruitful project that those involved will be proud of.